A front porch is one of the most appealing areas of a home, especially if it is comfortable, inviting, and well decorated.
It is a place where people often read the morning paper while enjoying the cool breezes of fall. The front porch is also a place to sit back and relax while taking in fresh air and observing outdoor activities. A well decorated front porch is friendly, and it provides countless ways to creatively welcome in seasons and special occasions.
 Preparing a Porch for Decorating
Before decorating a porch for any season or holiday, it is important to sweep away dirt, webs, debris, and wayward leaves on a regular basis. Even though this living space is outdoors, no one wants to sit in an area that appears dirty and uninviting.
Comfortable Seating and Side Tables
An outdoor porch that is used regularly must have comfortable seating and side tables to be truly relaxing and inviting. When decorating a porch for fall, consider outfitting existing chairs will comfy cushions in colorful and interesting fall patterns. When buying new seating, opt for weather-resistant wicker and thick chair cushions. In addition, select a roomy side table to place between seating areas. Tables with eye-catching mosaic tabletops are ideal when decorating a porch for fall, and with proper care they will last for decades. A table between two comfy porch chairs is ideal for holding a pitcher of refreshing apple cider or a carafe of hot chocolate. Make this picture come to life by decorating your front porch for fall. It will become a refuge as well as an outdoor haven for autumn relaxation.
Creative Outdoor Fall Decor
When decorating a porch for fall, use bales of straw or hay as a base.  They will provide a stable surface for decorating with planters, scarecrows, colorful gourds, faux crows, and other items used when decorating for fall.
Consider setting up a display that welcomes guests to the home. Place bales of hay or straw on both sides of the walkway that lead up to the porch. Stack various sizes of pumpkins on the porch beginning with the largest.
Create a "welcome" area that leads your guest into your home. 
Fall Planters
Along with creative outdoor fall decor, consider decorating with fall planters. The flowers of fall are some of the most beautiful of all, and they will add rich color and design to an autumn-themed display. Select large terracotta pots with adequate drainage, and fill them with organic potting soil and beautiful fall mums. Plant trailing vines around the edges, and place the potted plants on the bales of hay or along stair steps. They will add a tremendous amount of color and design to this fall display, and they will help welcome guests and make the porch look and feel more welcoming.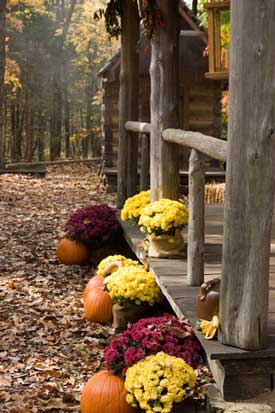 Lighting Options
An outdoor porch decorated for fall or for any season or occasion should include practical and decorative lighting. Consider purchasing rope lights to mount under porch railings or around the edges of the porch overhang. Rope lighting is available in various lengths and colors, and they can be combined with other rope lights or trimmed to fit perfectly.
The options are truly endless when decorating a porch for fall. These are just some of the ways you can add color and design to your outdoor living space. Visit local flea markets, resale shops, craft stores, and home improvement stores for decorating accessories. Some of the most decorative items are not meant to be used for decorating and serve other useful purposes. With a little creativity and the desire to begin decorating a porch for fall, you will be able to create a welcoming area for sitting and relaxing with friends and loved ones or for relaxing with a good book and a cup of hot apple cider.   
Article by Jessica Ackerman of Wall Decor and Home Accents